ShutterSnitch: Eye-Fi to iOS to OS X

November 26, 2013 - 10:47am
I shoot with a Nikon D7000 which features dual SD card slots. In my configuration, one slot gets a 32GB card to capture the .NEF (RAW) files, and the other gets an Eye-Fi 16GB Pro X2 card which grabs the .JPG files. I recently came across a iOS app called ShutterSnitch by 2ndNature and with that installed on my iPad Mini, as soon as I shoot a photo, I'm able to show it to the client, model, friends or whoever I'm with on the iPad screen.
2ndNature now offers a Mac app called ShutterSnitch Backup which will automatically copy images from your iOS device running ShutterSnitch to your Mac on the same WiFi network. All the images in the ShutterSnitch app will get backed up to your Mac and if the worst happens and you don't get the RAW images across for some reason, at least you have a backup waiting on the Mac.
ShutterSnitch for iOS is much better than the free Eye-Fi app that you would normally use on your iPad or iPad Mini to transfer photos from your Eye-Fi card, which does nothing more than transfer photos from the card to your iOS device. Plus it's not terribly reliable, as it often loses the connection and may only download half of the images you took, which isn't very professional! Also when capturing to the Eye-Fi app, all the images go straight to your Camera Roll and therefore to your Photo Stream. This is fine for some situations (i.e. out for the day with the family and casually shooting), but it's not ideal when shooting professionally, where you may only really want a few selects showing up in your Photo Stream — if any at all.
Using ShutterSnitch, the images will download into a "collection" that you set up in the app. From there you can easily delete the images you don't want, rate and sort the ones that you do, then share what you like to the Camera Roll. You also can share to email, DropBox, FTP, WebDAV, FaceBook, Flickr, ZenFolio and upload to SmugMug. I'm a little disappointed that it doesn't support 500px, but I can forgive it since my 500px photos usually come from Aperture after a little tweaking. The developer does take requests in the forum though so maybe we'll see the capability in the future.
All the features are listed below, but one of my favorites is the ability to set up Tasks, such as Move to, Export to, Change Filename and Copy to Collection, which are just a few of them. The developer has also added a Histogram (see image below) so you get an instant RGB readout of how good the image is. The developer has done wonders with this app, and the number of WiFi Cards and Camera Accessories that the app supports is commendable. There is also a forum on the site and they are on top of bugs, and any questions you might ask.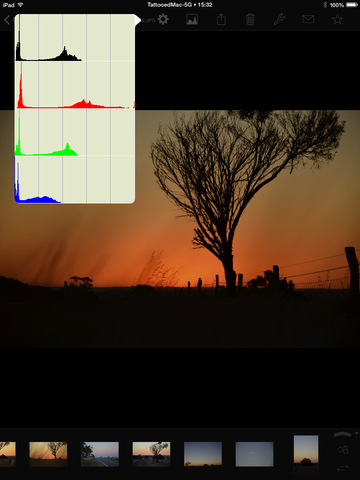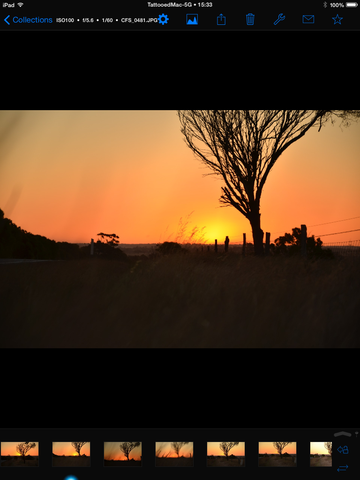 ShutterSnitch is available in the App Store for $18.99. For the amateur or professional alike with any wireless transfer device, this is a must have app for your iOS workflow. 

Feature List
Ready for all iPads, iPhone

3GS

and up, and iPod touch 3rd gen. and up.
Retina display support.
Slideshow function.
Arrange your shoots in albums.
Lock private albums.
Resize and/or watermark photos before sharing them via e-mail,

FTP

, Flickr, SmugMug, Zenfolio, Facebook, or Dropbox.
Large scale histograms (

RGB

,R,G,B).
Visible and/or audible warnings.
Map integration. Geo-tag

JPEG

photos automatically or manually.
Highlight warnings.
Add a caption and byline to the photos by tapping and holding the currently displayed full image.
Custom username, password, and port for the built-in

FTP

and WebDAV servers.
Receive files directly from one or more Eye-Fi cards.
Receive photos from your GoPro

HERO3

, Transcend Wi-Fi, Toshiba FlashAir, or

PQI

Air card as you shoot them or import files from the card manually.
Supports receiving and importing photos via

PTP

/

IP

. For example from Nikon

WU

transmitters and Canon

EOS

6D / 70D.
Supports receiving photos from Panasonic cameras that work with their

LUMIX

LINK

app.
AirDrop export.
Bonjour support for easy discovery in your Bonjour enabled applications. This also works the other way - when you want to export images to an

FTP

server, this is automatically detected (if the server is Bonjour enabled). This makes it incredibly easy to transfer images between your iPad and you iPhone for example.
Editor's Note: The author of this post had informed me of this app some time ago, and I asked him to write it up for the new site. I used it myself on my Mercedes-Benz shoot last week, and it was great. On that shoot I only used the Olympus OMD camera with Eye-Fi card and ShutterSnitch on an iPad mini with Retina display. It was fantastic to be able to keep the hundreds of shots from the SD card separate from the iOS Camera Roll, sorting and rating through the many, looking for the few to edit. Once selected I saved to the Camera Roll, edited in other apps such as Snapseed and Mattebox, before uploading to the Mercedes-Benz Instagram account at instagram.com/MercedesBenz. Here's a screenshot from the shoot.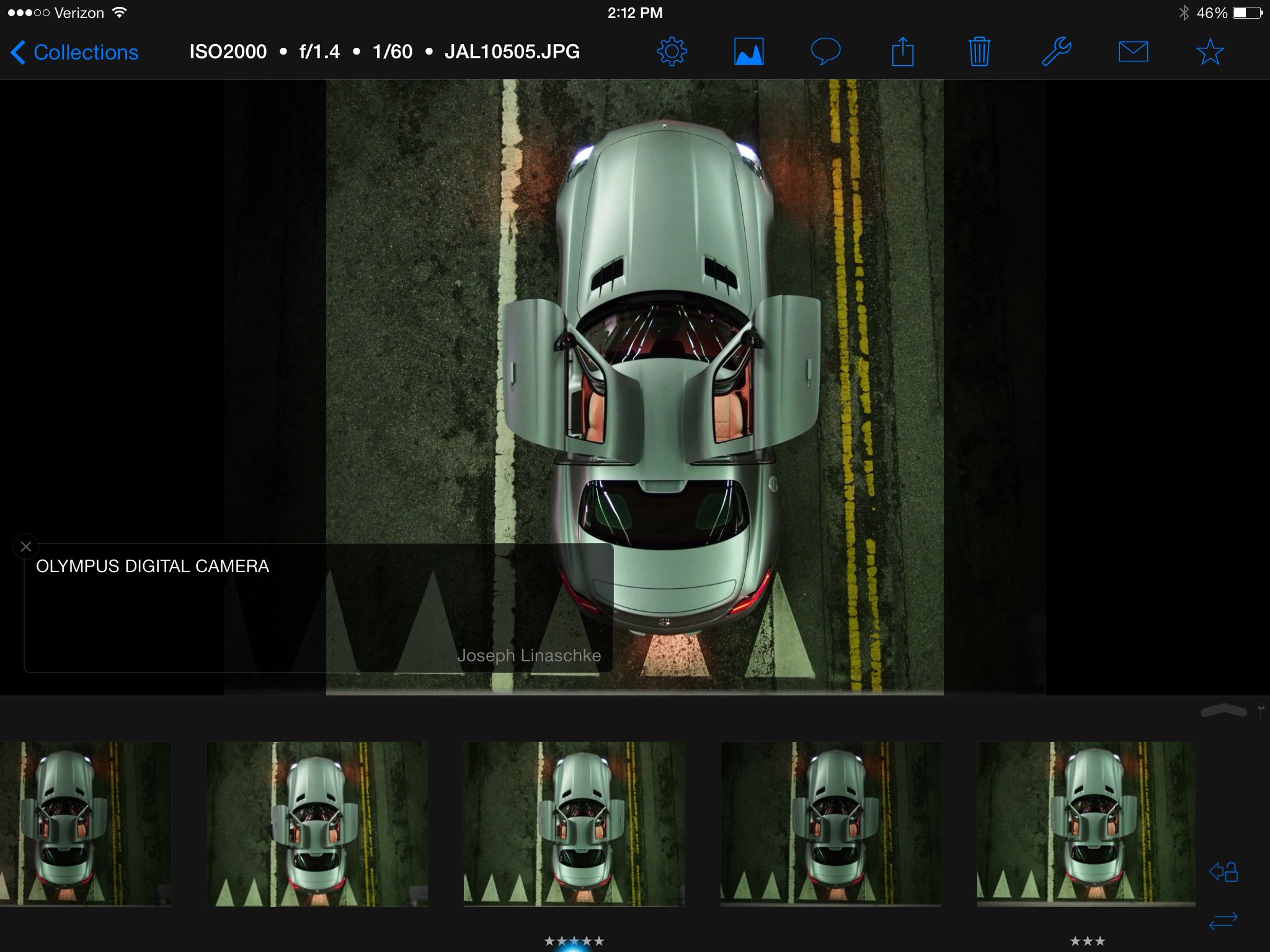 Level:

App:

Platform:

Author: