Pixelmator for iPad… One Incredible App

October 24, 2014 - 9:00pm
I've only just learned about and downloaded this myself, but right off I have two things to say.
Wow.
Wow.
OK that's three…
Impressive on first glance
Pixelmator for iPad (not available for iPhone) looks to do most of what we lost in iPhoto for iOS, and it looks to do it very beautifully. Check this out… curves man, curves!!
The feature list
Here, I'll just copy and past the features from their website…
Layer-based image editing
Precise layout tools
Vertical and horizontal rulers
Smart alignment guides, including center guides, edge guides, and spacing guides
Snapping to layers and image edges
Add different shapes, like Rounded Square, Circle, Triangle, Rhomb, Pentagon, Star, Heart, and Line shapes
Adjust shapes with smart controls:

Rounded Square—sharpen or make more round corners
Triangle and Polygon—change the number of sides
Star—change the number of points and their shape

Advanced typography features

Choose from over 70 fonts, change size, apply gradient or solid color, choose character style, and set the alignment and line spacing

Image Gallery to store images on iPad or right to iCloud
Edit image gallery

Sort images by date or name
organize images into folders
rename and duplicate images
delete images

Create a blank vertical, a blank landscape, and custom size images
Create images from Clipboard, template, FaceTime or iSight cameras, or open from Photo Library or iCloud Drive
Quick help with coaching tips
In-app help
Create and share images in Pixelmator file format
Share images in most popular file formats, including Photoshop images with layers,

JPEG

, and

PNG

Send images to iCloud Drive in

JPEG

,

PNG

, and Photoshop file formats
Up to 4096 x 4096 pixel canvas size support
Send a copy via Mail, Messages, Twitter, and Facebook, Airdrop, and Print
Open in Another App
Save Image to Photo Library
Over 30 inspiring templates to get started

Collage — Mosaic, Grid, Lopsided, Rounded, Parallel, and Oblong
Frame — Sharp, Rounded, Artistic, Grunge, Elastic, Pastel, and Blurry
Card — Best Wishes, Thank You, Happy Holidays, Love Is…, Happy Birthday, Summer Greetings, and Congratulations
Poster — Colorful Life, Summer, Keep On Dreaming…, Pool Party, Spring Break, and Adventure
Photography — Rain Drops, Light Bokeh, Sunbeams, Splash, Light Leak, and Color Rays
Vintage — Burned Out, Torn Photo, Illuminated Film, Aged Photo, Faded Film, and Washed Out
As an Extension
Pixelmator also works as an extension, albeit in a very limited way. I don't know why you can do so little, except that perhaps because you can do so much in the full app, they really want you to come there to do anything serious.
To open as an extension, open Photos, select an image and tap Edit, then tap on the (…) More icon.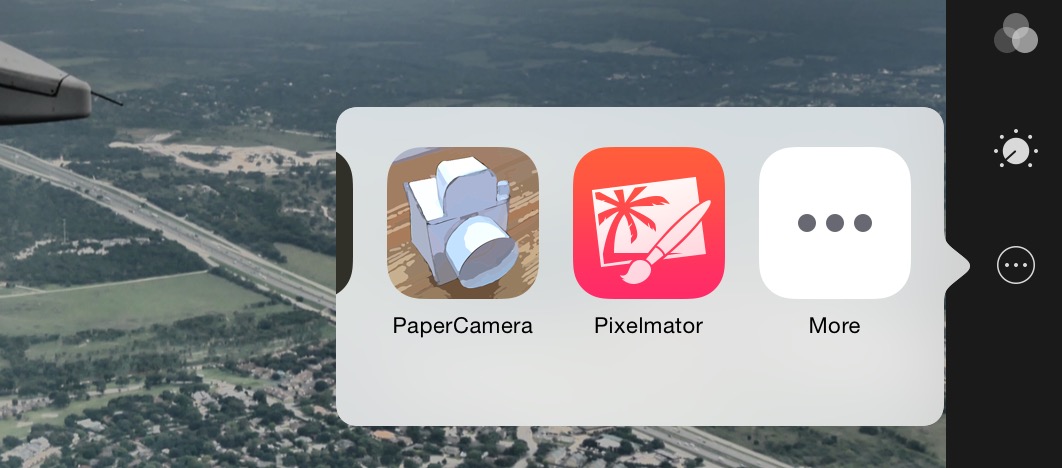 Remember that before you can see it there, you'll need to add it to the extensions list by tapping that second More button, and enabling it in the next screen.
Once added, here's one of the effects you can add in Extensions mode.
The interface is quite playful. See that "chain" hanging from the top of the screen? It swings around as you tilt the iPad. Cute.
This needs a deeper look
Without question this app merits a deep look. But I wanted to get the word out now. Pixelmator is $4.99 on the App Store, and it has a suspiciously "Apple" look to it. The icon looks mildly like the old iPhoto icon, no? 
That's the Pixelmator icon on the left, and iPhoto on the right… hmmmmm
Considering this was featured in the last Apple presentation, and that the Pixelmator web page and marketing video look very Apple-like, you do have to wonder if Apple had anything to do with this. Whatever, who cares, it rocks. If you grab it, be sure to share your thoughts in the comments below, and I'll get working on a proper write-up of this soon!
Level:

App:

Platform:

Author: