Using Aperture Libraries in Capture One Pro 8

I recently wrote a blog entry on my getting to grips with Capture One Pro 8 after realising that the replacement For Apple's Aperture (Photos.app) might prove to be wanting in too many areas to make it a viable choice for more advanced users.
I mentioned in passing that one thing that led me to Capture One Pro was that using Aperture Libraries seemed to be a fairly painless experience (compared to some reports regarding doing the same in Lightroom) and this, plus a desire to avoid defaulting to Adobe and Lightroom, made me download the trial version and give it a whirl.
I was invited to expand on this here, so here is what I have learnt; Capture One Pro seems really keen to get Aperture users onboard. 
I must add a disclaimer here that I am new to Capture One Pro 8 and may not have covered every possible angle when experimenting with it, so don't do anything crazy without backing up first; I recommend duplicating relevant files and play with them, whilst you get the hang of it.
When you open Capture One Pro you can go to the Edit menu and choose open Catalog, you then get the option to import a variety of them. (Remember that Library and Catalog are pretty much the same thing, but try and get used to thinking of Catalogues from now on).
You may or may not get a dialogue box depending on whether there are issues with the Library, this stems from Capture One Pro being rather clever (sometimes to a fault) when dealing with Aperture Libraries, it may notify you of "off-line" images, etc.; this could mean your Library has images referenced elsewhere (hard drives not connected) or, as I discovered, a preview that has no original RAW file (because I had deleted it earlier as part of an experiment). 
Once it is in Capture One Pro you may find the Library/Catalog is contained within some folders that mimic the old file structure that was in Aperture (I got this because I exported a Project as a new Library and it remembered the original hierarchy). 
This is not a big deal but if you want to keep using the Library in Aperture maybe it is best not to move the Project out and erase the enclosing folders just yet; I did do this and it did not seem to cause a problem, but there maybe too many variables than I have not tried before I can say this is a safe option.
If you had any Albums within your Project these also appear intact (though not Smart Albums).
There will then appear a background task bar, which does not affect you using the program: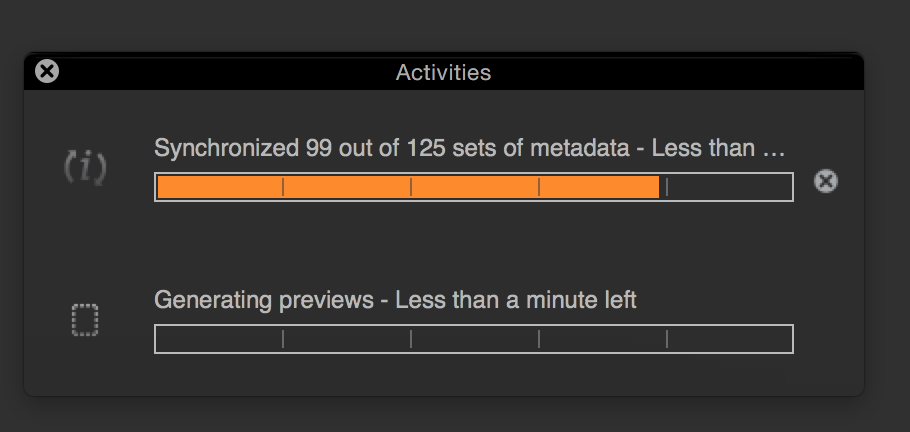 What will be comforting to many is that though Capture One Pro uses the word Catalog for what we think of as Libraries in Aperture, it does still use Projects and even has an identical icon as well, you can pretty much do with this what are you are used to doing in Aperture, having Albums etc. There are even Folders, but alas they are called Groups!
One minor caveat regarding Capture One Pro Projects to remember for the future (if you start creating them) is that you cannot put files directly into them; there needs to be an Album there first, this does not bother me as I always tended to create Albums in Aperture anyway.
So now you have your Aperture Library/Catalog in Capture One Pro. What could possibly go wrong?
Well not too much actually, It does a great job bringing in Keywords, Labels, Star-Ratings and all the usual EXIF etc, you may find that there are some changes in colour, but quite frankly this could be for the best, as I have discovered. As far as I can tell Crop and Rotation gets carried over and remains editable as well. [Edit: I need to clarify that when accessing Aperture libraries you are accessing the files in their original format, and Capture One will do its best to copy your adjustments, which will then be editable in Capture One's equivalent tools; your RAW files stay as RAW files and you can then choose to either keep, refine, or even remove the Capture One adjustments and start afresh. Personally I found Capture One's interpretation of the original Aperture files to be at least as good as the original, but different cameras and even personal preferences will vary of course.]
I have experimented a little with editing images and seeing what happens back in Aperture, again there seems to be no problem, you can even erase from Capture One Pro without erasing the original as long as you choose the correct option in the pop up dialog box: Keep in Place. If you choose Move to Trash, that is indeed where you will find it (OS X Trash):

If you then open the Library in Aperture you will see a preview with the Yellow Warning Triangle telling you the original is missing: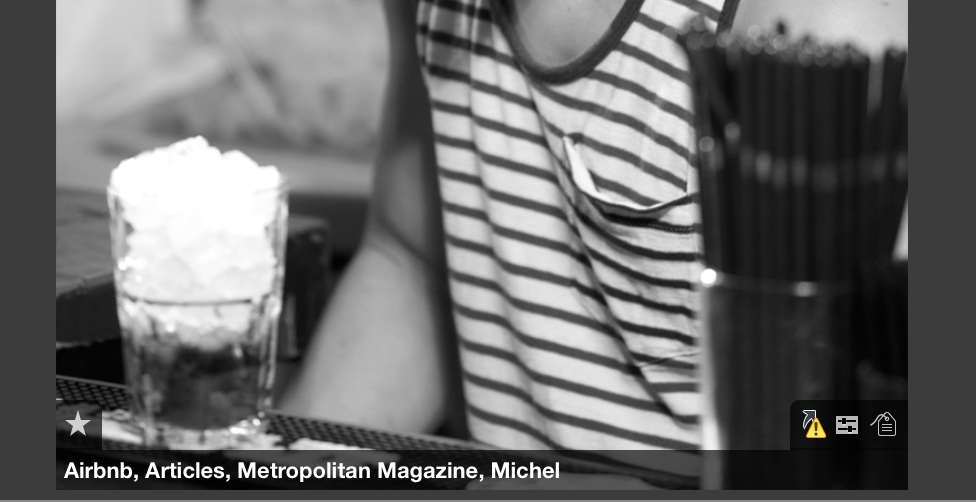 Common sense would dictate that once you have imported an Aperture Library into Capture One Pro you should avoid working on it in Aperture, because things might get complicated, for instance, I have not found a way to get Capture One Pro to easily update/synch a Catalog with changes later made in the original Library (in Aperture) after it has been imported.
I even tried deleting the Catalog from Capture One Pro entirely and re-importing but Capture One Pro, as I said above, can sometimes be quite clever and it pops up a dialog box saying: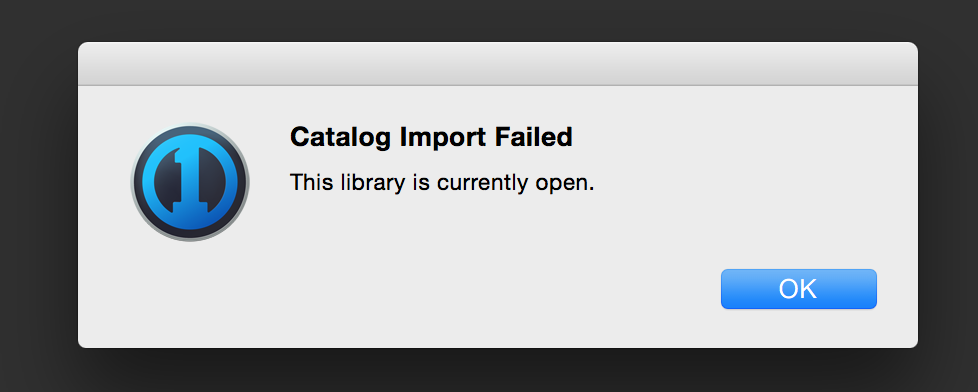 This is, obviously because the Library is still open in Aperture.
So to round off I have to say that Capture One Pro has offered a real life-line to Aperture users who want to keep all of the info stored in their Libraries, without a lot of pain or grief and after managing to do that  well, this is when the fun really begins as you get to see how incredible (and at times a little daunting) it is to use.
Level:

App:

Platform:

Author: