Ten Tips to a Clean Aperture Library (6 of 10) — Clean Your Stream
(If you're just joining us, start with Tip 1)
Tip 6 — Clean Your Photo Stream
Now that you can delete individual images from your Photo Stream, it's easy incentive to keep it clean so you can have up to 1,000 photos in there that you actually care about! It only takes a few minutes to scan through the Photo Stream and delete the photos you don't need. You know, like that time you shot the inside of your pocket, or the three useless shots when the cat kept looking away at the wrong time, or when your kid ran off with your iPhone and shot 78 photos of her brother picking his nose. That sort of thing.
That'll propagate through all your devices, and if you have an Apple TV and use the Photo Stream as a screensaver, it'll look that much nicer.
Plus remember that if you have Automatic Import turned on, these photos are already stored safely in your Aperture library — so why not clear them off your iPad, iPhone and Apple TV in one fell swoop.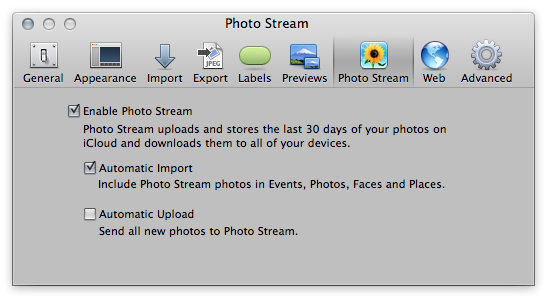 Photo Stream can archive your photos for you, so why not delete the ones you don't want cluttering the Stream?
This is a great idea. I just completely nuked my Photo Stream and started from scratch. I was shocked how fast more photos started to populate. I have a bad habit of shooting photos of prices in stores with my iPhone for later reference even though I hardly ever refer back to it. It felt great to clean it out.
There's been quite a bit written about the quirks of Photo Stream and I've experienced some of those. There was a time when my Photo Stream wasn't updating with photos I moved in from my Aperture library and I had to reset it in iCloud.
Here's a helpful conversation in the forums on the subject.
App:

Platform:

Author: