Ten Tips to a Clean Aperture Library (7 of 10) — Repair Your Library

(If you're just joining us, start with Tip 1)
Tip 7 — Repair or Rebuild your Aperture Library
It might be running fine, but it doesn't hurt to run some diagnostics on it. I've found that it usually finds some database issues every time I run it. Just do it.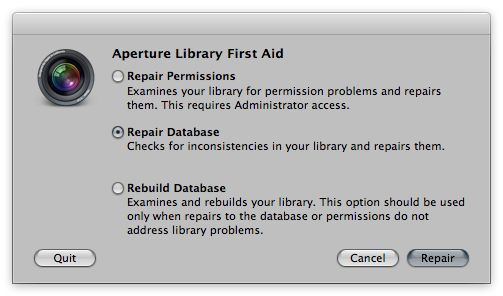 Hold down the Option+Command keys when launching Aperture to make this window appear
Repairing and rebuilding the database is a great fix-all. Think of it like rebooting.
Customer: My computer doesn't work.
Tech Support: Have you rebooted?
C: no…
TS: Call me back after you do.
But of course rebooting, or repairing the database, doesn't always work. Sometimes you need more.
The FAQ lists all kinds of things you can do to get Aperture up and running better, but I have one Jedi trick up my sleeve that has, in the past, on occasion, worked wonders.
That's the "Import your Library into a new, clean Library" trick. Basically, create a new Library, and drag your old one into it. It will take a long time and you'll need some free hard drive space (at least 2x the size of your library; 3x is better) but it may be worth it. My theory is that this does some kind of major rewrite of the entire database. Not a repair or rebuild, but a rewrite.
I could be 100% wrong. But it's worked for me, and worked for customers here. What have you got to lose? If you're pulling out your hair because of library issues, it's worth a try.
App:

Platform:

Author: