Removing the Menu Bar on Aperture's Second Screen

October 25, 2013 - 7:01pm

Dual displays in OS X Mavericks means dual menu bars
Got multiple monitors? Then you're probably loving the way Mavericks handles multiple displays, putting a menu bar above every screen, allowing full screen apps on a single display, and giving you access to the dock on both screens (although to be honest I haven't figured out how it decides where it will show up, and so far that's more of an annoyance than anything). However there's one place where it's not exactly ideal — and that's in Aperture.
If you enable second display in Aperture, you'll see the menu bar at the top. Not the Aperture toolbar, but the menu bar. This is… less than favorable.
The good news
The good news is it can be turned off. This support article explains how to do it in Apple officialiese.
The feature isn't specifically called out in the preferences, but it falls under the Mission Control feature "Displays have separate Spaces". By disabling this, all of your screens will act as a single Space (as they did in Mountain Lion), and the additional menu bar will disappear.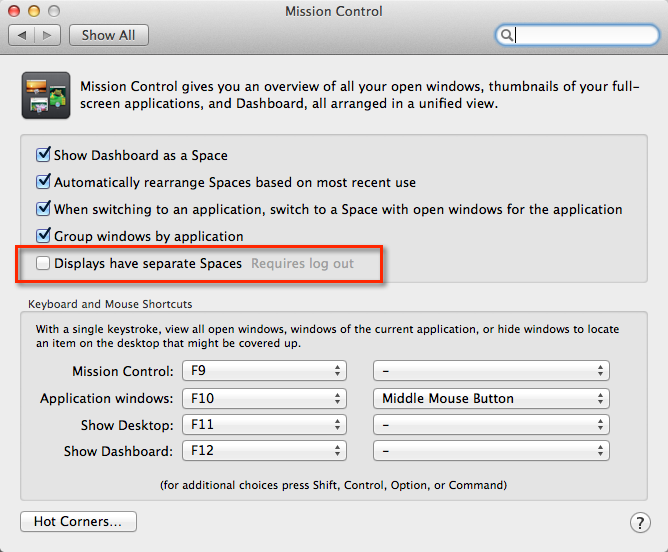 Disable "Displays have separate Spaces" to hide the menu bar on additional screens
The bad news
The devil, as they say, is in the details. You have to log out and back in to activate this. So either you choose to live with the menu bar, live without separate Spaces (a pretty great feature of Mavericks), or choose to change settings and log out and back in every time you want to change this. Ugh.
Hopefully a future version of the OS will allow Aperture (and other apps) to take over both screens and toss the additional menu bar.
App:

Platform:

Author: