What Additional Tools Are Essential to Your Aperture Workflow?

Aperture is the center of our photo managing and editing workflow, but we all have extra tools, plug-ins, tricks and techniques up our sleeves. What completes your Aperture workflow?
Here are the essentials that I have on my system revolving around Aperture and my photography. What do you use? Let us know in the comments!
I use this every day, dozens of times a day. In fact, according to it's built-in stats, I've saved 17.81 hours over the last year, and have used it 10,930 times. That's 30 times a day. Nice! So how do I use it in Aperture? I use it on every new project I create, when I type the letters "ymd" at the front of a project name, and they auto expand to "2013-06-19 | " (that's the current YYYY-MM-DD followed by a space-bar-space). Now that's 10,931 times used. [site link] [update — don't buy this from the Mac App Store, as you can't get the latest version here. Be sure to visit the company site directly]
I use the tablet in lieu of a mouse a lot, and not just in Aperture. Of course I pick it up to brush things in, but I like using it for nearly everything else because it's faster and more accurate than a mouse or a trackpad. I'm still waiting for them to invent the magnetic levitating pen though, so I can just let go of the pen and it'll float above the pad, instead of having to set it down and pick it up again every time. For the record, I shared this idea with them in 1999 or 2000, and still haven't seen it. C'mon guys, let's do it! [amazon.com link]
Obviously we all need at least one input device. I use three. It may seem excessive, but when I'm using the tablet, I like being able to scroll (two finger slide on the trackpad) to adjust brush size, and I don't like the tablet's tools for it. They just don't work for me. So my keyboard is flanked by a Magic Mouse and a Magic Trackpad, and I often swap sides with them as I get tired of having one on one side. I'm right handed, but when it comes to basic mousing I've become somewhat ambidextrous. I won't use my left for precise mousing but I will do general moves with it, and of course use the fingers to scroll. I love the gestures on the trackpad and tend to use those quite a bit, while the other hand is on the pen. And I tend to use all three devices in Aperture. If I'm brushing a mask, of course I'm using the pen. If I'm spot retouching, I use the mouse because I like the solid click and consistent size of the heal (i.e., I don't want a variable sized brush when I'm cleaning sensor spots, and can more quickly scroll the brush to the size of the spot I'm removing). The trackpad becomes my brush sizing tool in the left hand while the right is holding the pen. [Apple.com link]
If only I had three hands, or at least a prehensile tail…
I've beat on you readers enough about this; if you aren't well versed in the necessity of online backup, read here, here and here. Backing up is an essential part of my Aperture workflow (I backup locally using Time Machine as well). [Site link]
This is a tiny utility that monitors the amount of free RAM in your system, and displays it in the menu bar. I have this running so I know why the system slows down if it does, and can do something about it. Read their store page explaining the difference between Free and Inactive memory, but to be honest I'll rarely use the command on here to free up inactive memory, because it can take ages. However if the Free number gets low, I know at least I need to quit a few things.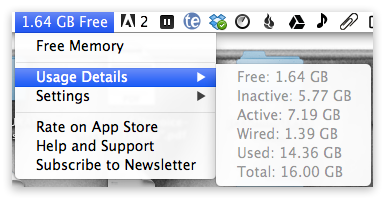 This is important because my system usually looks like this. I know. Ridiculous.

I use SmugMug to share images with clients for review, but the process isn't ideal. A year ago I said I'd do a comparison to Zenfolio, and I never did it. Now that the free year they gave me so I could do a review has expired unused (brilliant on my part, obviously) I'm thinking I need to do this. I was looking at a client gallery on the iPad recently, and the interface leaves a lot to be desired. [Site link]
I love this plugin by NZWidgets for uploading images to SmugMug from Aperture directly. [Site link]
I still love Squarespace 6 as my portfolio and photo blog over at photojoseph.com. ApertureExpert is currently running on Squarespace 5, but as you know it will be migrating elsewhere soon. It's been a great run, but this site has outgrown it's capabilities. However when it comes to photo sites, I think Squarespace is hard to beat. Especially the new Squarespace 6. [Site link]
Where would we be without music? I love Spotify radio; I pick a track that suits my mood and let Spotify pick the rest. Works out well for me. And I don't like editing in silence. [Site link]
Still love 'em, still use 'em all the time. And yep, my discount is still active. I'm under the impression this ends at the end of July now. Code is still ApertureExpert for an additional 15% off. [Site link]
Now that many of my training videos are on Lynda, I have an account there, and WOW what a resource. I'm blown away at just how much training is there. I've been using it to brush up on some Photoshop skills recently, watched all of Douglas Kirkland's photography videos (he's a legend!), picked up some GarageBand tips, and a lot more. Derrick Story has tons of training there too; Aperture and general photo-related. By the way I'll be recording more training for Lynda for sure; some will be avaiable exclusively there, and anything Aperture related will be there and here as well. [7-day free trial link] – [my training collection link]
What's critical to your workflow?
What tools are in your utility belt that you can't live without? I didn't even mention hard drives, and many of you print so I'm sure have favorite printers, color calibrators, and so-on. Scanners maybe, too? What plugins are you using? What do you use that has nothing to do with graphics (like TextExpander), that you can't live without in Aperture?
Let us know in the comments; I'm sure we'll all learn some new tricks and add a few things to our arsenal!
There are some great additions to the list showing up here. I'll post a follow-up article in a week or so compiling all of your tips. So if you have a great one to share, please do it! Thanks folks.
There's now a part 2 to this post, covering all the things listed in the comments! Check it out here.
App:

Platform:

Author: