Tethered Shooting Still Rocks, but Should It Do More?

Last week I had a two-day shoot of a ballerina in my studio. She needed a variety of posed, cleanly-lit shots to show off the poses she's capable of, as well as head shots for auditions, but we also wanted to do some creative, more fun photos while we were at it.
We had a makeup artist in the studio, and with so many people wanting to see the photos as they came up, shooting tethered made perfect sense. The makeup artist was able to zoom in on the head shots and look for stray flecks of makeup, stuck together eyelashes, or any other detail that would save me retouching later. I was able to ensure with extreme accuracy if the exposure, focus, etc. was spot-on. When shooting poses, the ballerina could see from across the room if the pose was what she wanted. When shooting action, it allowed all of us to make subtle changes in real time to the lighting, camera position, jumps, etc. Very cool indeed, and Aperture worked flawlessly throughout.
I recently added a Mac mini with an SSD drive to my studio, primarily as a second Mac for an assistant to use, but it's become so much more than that. In a situation like this, it's super simple to move the Mac around the studio (OK an iMac would be even easier), and unlike a laptop, the screen can still be huge. Also even though the Mac mini isn't a powerhouse for editing, the SSD drive makes it extremely fast to copy images from a card or in this case, the camera directly. It was 2 to 3 seconds from shooting to seeing the full-size, RAW image on screen (21 MP Canon 1Ds Mk III images, no less). It'd be even faster if I transferred JPEGs, but with that kind of performance, and shooting one frame at a time, this was perfect.
Some day I'll add a big LCD TV on the wall with Apple TV connected to it, and set it as a second display with Aperture in mirror mode, showing the selected image on the big screen. How cool is that for client review?!
Setting up tethered shooting
Tethering to Aperture 3, if your camera is supported, is very easy. Just plug it in, enable tethering from the menu File > Tether > Start Session…, choose some import settings (many of the same ones you have on regular import), and start shooting. You can even do this with your iPhone connected, if you just want to play with it.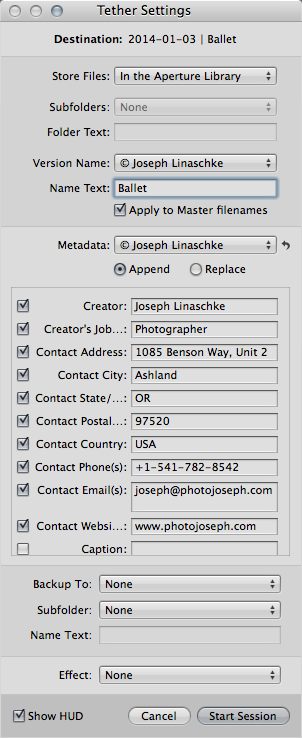 You can trigger the shutter from the camera itself or from the Tether HUD, which can come in handy if your computer is closer to you than your camera while making adjustments on set.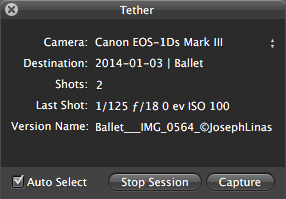 Get a long USB cable (I'm not sure if this is where I got mine, but monoprice.com has 10ft and 15ft cables for cheap), and you can get them in white, which I highly recommend—it's hard to see a black cable stretching between your camera and computer in a dark studio! Buy multiple cables while you're at it. Always have backups.

Buy cables in white (or neon colors if you can find them) so they're easier to spot in the dark studio, stretching from camera to computer
File naming oddities
I had some very odd behavior with file naming on import which I'll be reporting to Apple. You don't see it in the HUD screenshot above, but all my files were getting a bizarre custom name (not quite as I'd designed in the Version name preset), plus they were always getting the year 2000 applied to them—even though both camera and computer had the proper date set. Very curious. As a result I actually ended up not renaming my shots on import, which is sacrilegious for me. But I'll batch rename them afterwards.
What else should it do?
What else could Aperture be doing here? It's fast, it renames on import (well… it's supposed to… but that's a bug I think), it adds metadata, it'll back up to a second location on capture, and you can apply adjustment presets at the time of import/shooting. Camera control is simply the ability to fire the shutter. I've used Canon's (abysmal) software before where you can adjust exposure settings, focus and more, which is quite cool. Should Aperture support that? Would it be interesting if you could control time lapse from the software? Fire and auto-combine HDR sequences? What would you like to see?
Results
Can't resist showing some results from my shoot! :-)
This is me pouring baby powder on the model…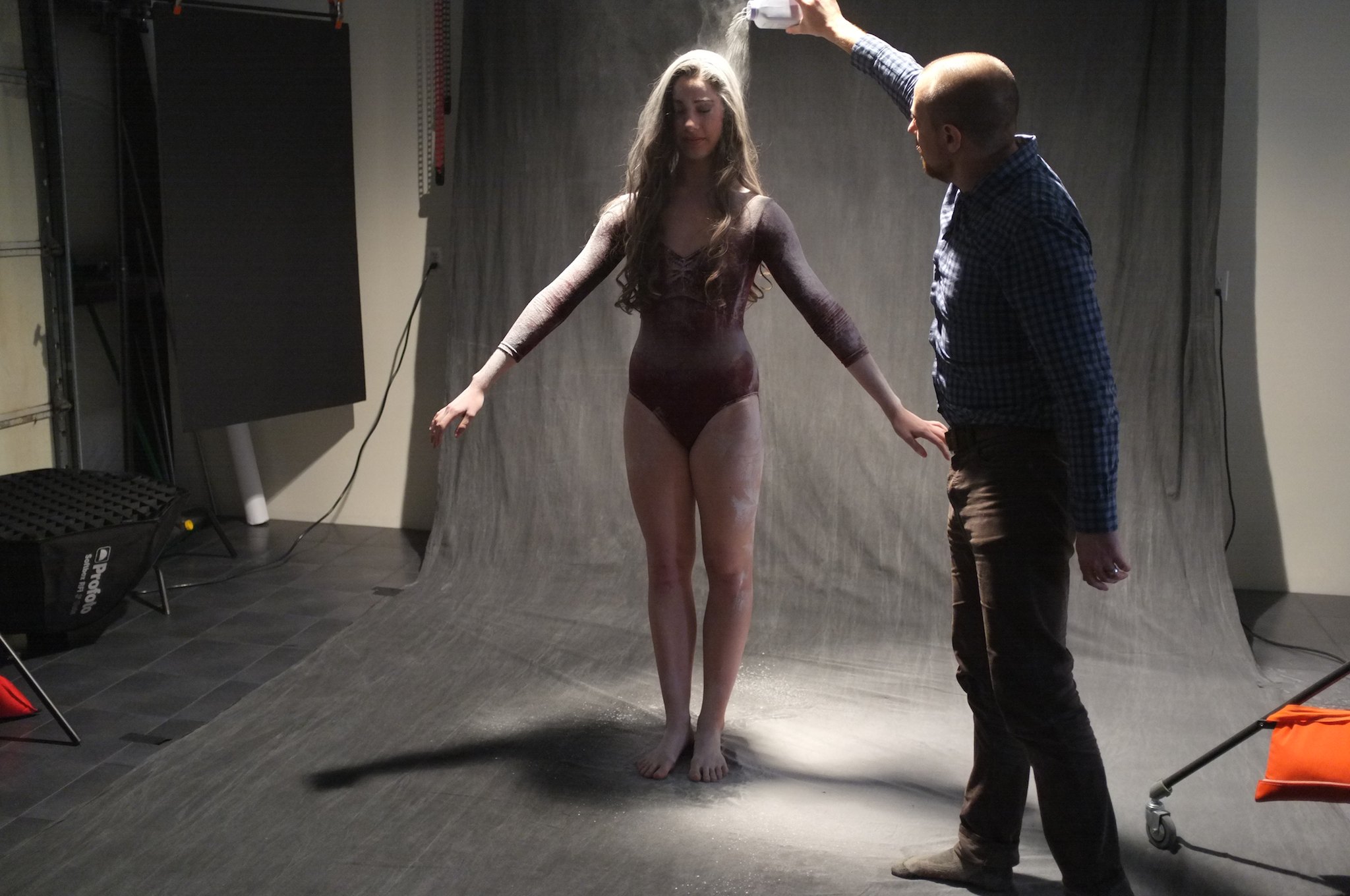 This is what happens when you use baby powder in a shoot…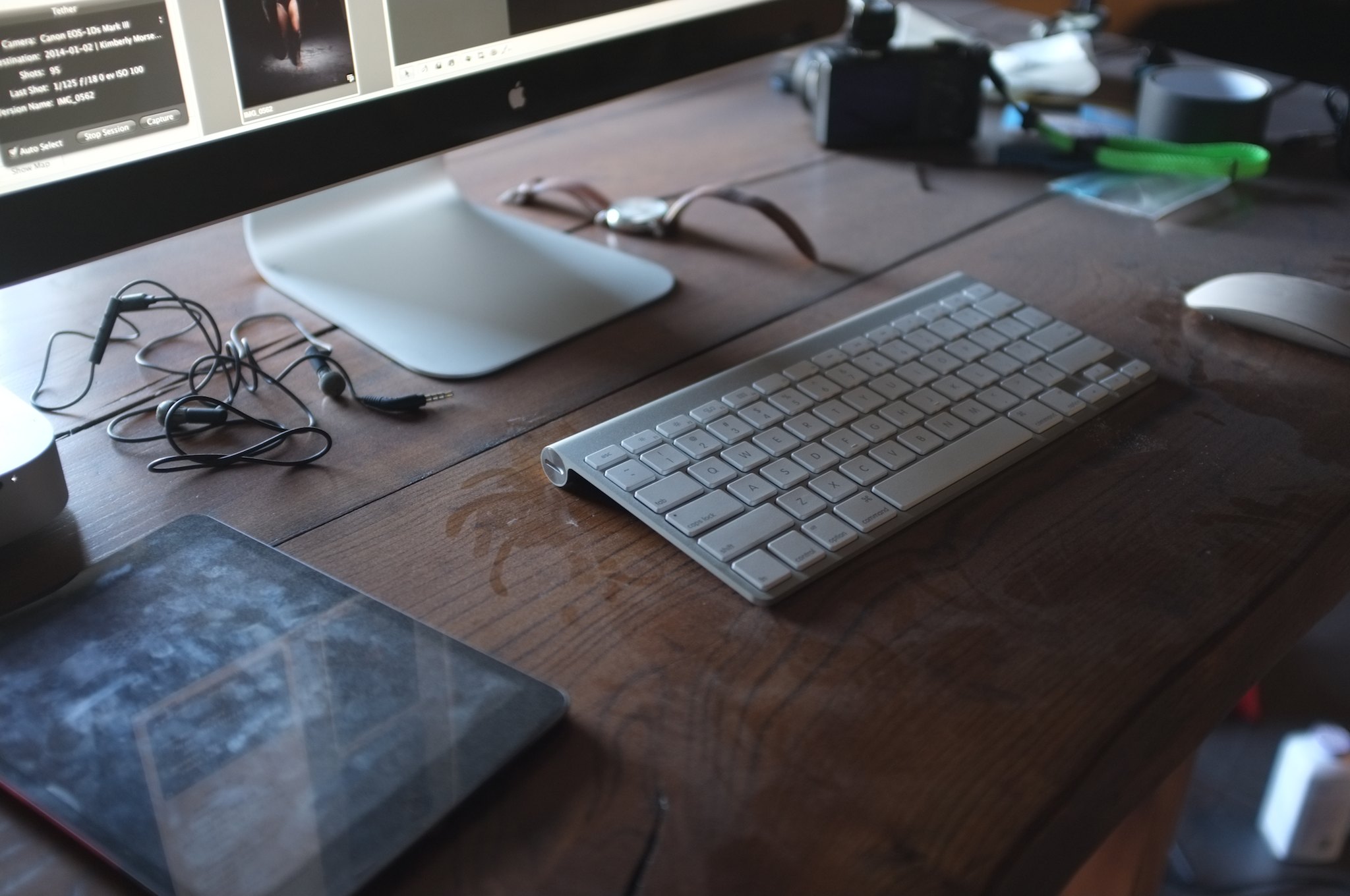 The result, however, was well worth it. This is almost straight from camera. I added a touch of saturation, but that's it. I'll do some retouching for the final client delivery.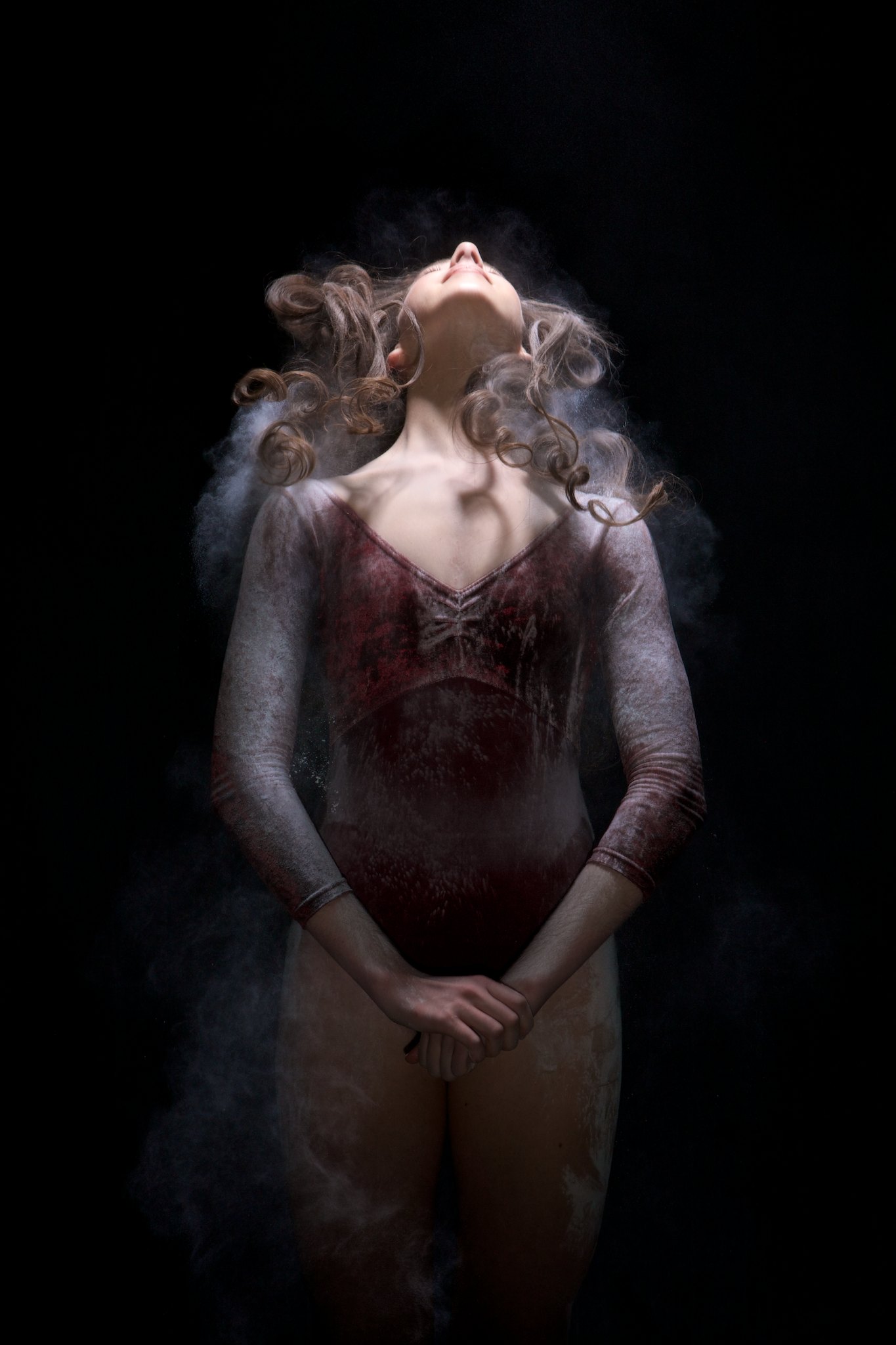 Level:

App:

Platform:

Author: