A Closer Look at the Photos "Adjustments" Bar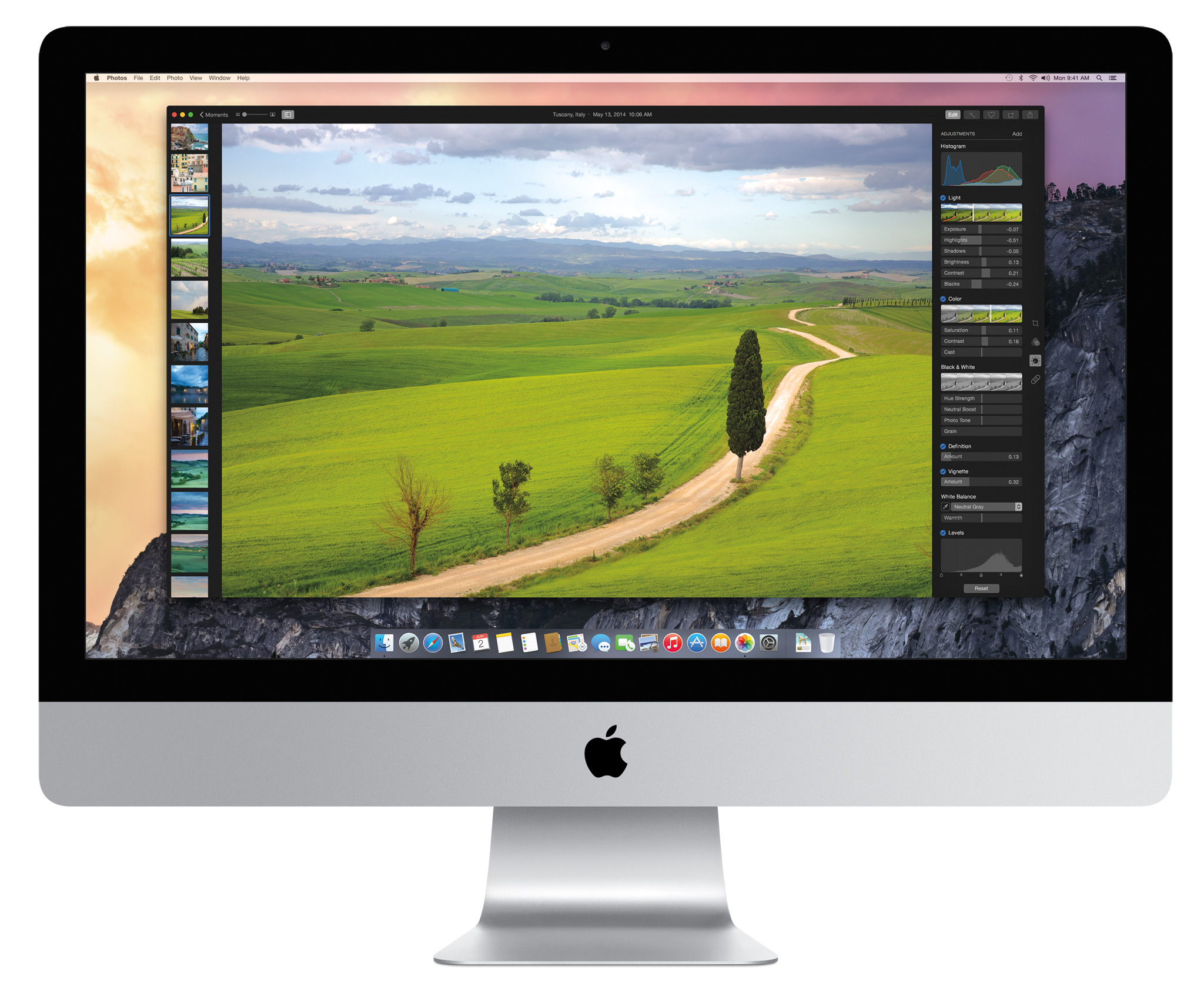 By now we've all seen the official screen shot that Apple released along with last week's announcement that Aperture was being discontinued. I wanted to take the time to go through this and have a closer look at what we have here. And please, remember that this is just a screenshot. It may even be a mock-up. We don't know more than what can be inferred here, and just because something isn't here doesn't mean the feature is missing (after all, you can't take a single screenshot of Aperture and show every single adjustment available). But let's take a look at what we can see, and see how it correlates to the Aperture we know and love. Also keep in mind that some icons are obvious, while others aren't and are therefore completely open to interpretation.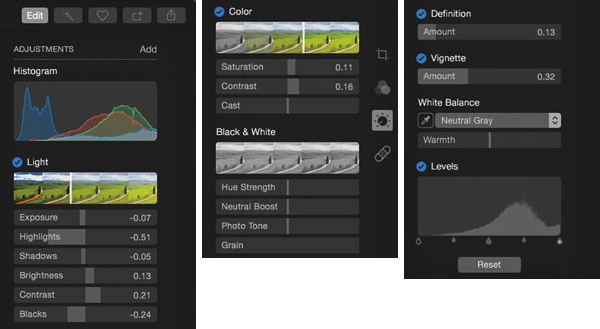 From a high-level view, look at the Light and at the Color sliders. This mirrors something we saw live at WWDC. There are single sliders to adjust "lightness" and "color" (that "filmstrip" has a grabber bar to move left to right), however those sliders are actually adjusting a series of refinements automatically. What this shows is that we can take an easy, single-slider approach, then refine each component individually. Or, skip the easy slider and go straight to the individual components. It's a great method that appeals to both the beginning and advanced user, with the ability to grow without having to add tools or upgrade the app. It also helps you learn—you can watch the sliders to see how one increases while another decreases, and understand their relationship to each other a bit more clearly.
Top row of icons
Let's start that row of icons across the top. We see Edit, a magic wand, a heart, a box with a + in it, and the share icon.
Edit appears to be where we are now, and that's obviously the edit mode.
The magic wand should be self explanatory; we have this currently in Aperture and it's the Auto Enhance tool, which automatically applies a series of adjustments in an attempt to intelligently correct your photo. Sometimes it's amazing (magic!), and sometimes not. Always worth a try.
The heart I think we can assume is "favorites". Perhaps that's favorite adjustments, or favorite photos (although I think that'd be on the left), or favorite third-party apps. Hard to know. But favorite something is, I think, a safe bet.
The box with a + in it is a bit more mysterious. The + should signify "to add", so perhaps that's a place to add things like photo books and calendars. I don't believe it's about adding adjustments because we see the text "add" next to the Adjustments title. So I'm going with projects here like print items, slide shows, etc.
Share is of course sharing; Facebook, twitter, email, etc. Possibly to Photostream, and likely to your iOS device via Airdrop.
Adjustments panel
As mentioned, next to the text "Adjustments" we see "Add". So clearly the few we see here don't compromise everything available. One could hope that this ability to add will include 3rd party apps, such as a Nik plugin/app that would show up right in the adjustments pane. Wouldn't that be cool.
Histogram
The Histogram is of course present, with full Luma-RGB display. Likely you can right-click on it to access other options. I'd love to see the Lightroom feature of being able to reach into the histo and drag it left to right… man that'd be sweet.
Light
Under Light, (where the row of different image versions is itself a slider), we see the following refinement sliders:
Exposure
Highlights
Shadows
Brightness
Contrast
Blacks
Let's map that to what we have in Aperture today. This is written as Photos = Aperture.
Light > Exposure = Exposure > Exposure
Light > Highlights = Highlights

&

Shadows > Highlights
Light > Shadows = Highlights

&

Shadows > Shadows
Light > Brightness = Exposure > Brightness
Light > Contrast = Enhance > Contrast
Light > Blacks = Exposure > Black Point
Hopefully the new Brightness and Contrast are better tools than what we have today, which are both pretty awful.
At first glance there are missing sliders, but as we'll see most of them are spread around in other places. So let's continue through these, then go back and see what, if anything, is missing.

Color
Under Color (which again is a slider itself), we have:
Again the Photos = Aperture map…
Color > Saturation = Enhance > Saturation
Color > Contrast = [no matching Aperture slider]
Color > Cast = [no matching Aperture slider]
I would guess that Color Contrast in Photos is akin to… well, that's tough. It's not Enhance > Contrast because that in Aperture has nothing to do with color. What is "color contrast"? Making dark colors darker and light colors lighter? I guess that makes sense, although I'd have to see it in person to really grok it. Interesting! Maybe Lightroom has something like that and someone else can chime in on what it might do.
Color Cast is likely a simplified version of the Tint wheels in Aperture. Assuming the point is to remove a color cast that isn't really white balance, this could be great. Imagine a photo of someone in the shade with green light reflecting on them from a nearby green bush. That's a tough thing to compensate for today.
Black
&

 White

Under Black & White, we see a whole new interface.
Hue Strength
Neutral Boost
Photo Tone
Grain
Since these don't match Aperture at all, I won't do a Photos = Aperture list. This seems like a reasonably powerful built-in B&W editor. Previously all we had under the B&W tool was individual control of what was essential exposure of each of the red, green and blue channels. I never found this to be particularly intuitive or useful, other than for mimicking the old-school way of shooting black and white film, which included putting color filters on the lens to enhance certain colors/tones in your scene. It's difficult to know what these will really do. Hue Strength is confusing to me; Hue is color and that doesn't get stronger, it just changes from one hue to another. You could interpret hue strength as saturation, but then call it saturation. And saturation has no place in B&W, since it's desaturated already. Hue really has no place in B&W. So, no idea on this one! Anyone who knows more about color theory got a clue on this tool?
Neutral Boost could be like contrast. The more neutral it is, the flatter it is? But then why not call it contrast… so yeah, don't know either. 
Photo Tone is likely a color tone, like making a sepia or cyanotype look, but I see no color picker. Maybe it brings some of the original color back into the image.
Grain at least is self-explanatory. Yay! Love me a good grainy B&W image. 
Definition and Vignette
Two sliders with no sub-controls. Definition shows up in Aperture under the Enhance brick, so it's probably the same thing, but upgraded to a primary position. Which is great, because this is an important adjustment that can make a subtle but significant perceived-sharpness shift in a photo. Vignette of course adds that dark shadow around the edges of the image. This version has no Radius adjustment that we have now, and also no Gamma / Exposure selector, although the Exposure option was always pretty horrible, so no love lost there. Not having a radius slider seems like a missing feature though. This probably also includes negative vignette in the same adjustment slider.
White Balance
This looks like what we have today. We only see the Neutral Gray along with a Warmth slider, but that Neutral Grey is a drop down and presumably we'll see Skin Tone and Temperature & Tint in there, too.
Levels
Levels is here, along with the Quarter Tones already enabled. 
Icons down the right side
There are four here. Crop, which presumably would include straighten. Three overlapping circles which I would expect to mean color (that kind of icon is often in RGB), however we already have color controls under adjustments. So maybe that's pointing to add-on tools? Third party items like Nik apps? Hmm, but it wouldn't make sense for that to come before the next icon, which is currently selected so we know it to be Adjustments. So that three-circle one remains a mystery. Thanks to @deanclabrough for pointing out that in iOS 8, that three-circle icon means "Photo filters and editing tools". I think it and the adjustments icon should be swapped then, but maybe it makes sense if you're looking for a quick-fix or a fun effect instead of the more detailed, manual approach that we'd find in the Adjustments tab.  Finally something that resembles a bandaid, so let's call that Repair. That could include healing tools, noise reduction, red-eye removal, chromatic aberration removal, and so-on. Maybe even sharpening. Seems logical.
What's Missing?
From Aperture, we are missing Exposure > Recovery. This is quite different from the Highlights slider (recovery affects a very narrow range of the brightest pixels, whereas Highlights is a broader range of brights), but I suppose it could be built into highlights and exposure. Or even the raw decode, if it was smart enough to pull any errant pixels out of range back into view. Which could make sense; after all if the data is there, we want to see it. 
Enhance > Vibrancy is conspicuously absent. Vibrancy is like saturation except that it protects skin tones. Perhaps the new saturation slider automatically protects skin tones (I've never seen a case where I actually wanted to make a person look like they have a fake tan), but currently in Aperture I definitely use both Saturation and Vibrancy. 
The Tint wheels are gone, but hopefully the Cast adjustment takes care of that. Hard to imagine the same control from three color wheels being reduced to a single slider though. That said, it's very rare I use this tool. Anyone else?
One of the newer sliders in Aperture is gone, and that's Highlight & Shadows > Mid Contrast. This is a great tool. Given that we still have a Contrast slider, which again in the current Aperture is awful, perhaps the old Mid Contrast is mixed in with the new Contrast. That'd probably be OK.
Of course there's a ton of other adjustments that are completely absent, but again, let's remember that we're looking at one screenshot. And let's also remember that as I said before, don't expect version 1.0 of Photos.app to have everything Aperture does today. This collection of basics appears pretty good. Other than curves, and the things we assume we'll find under the repair tab, this is reasonably complete. No it's not a full tool set, but with third parties stepping in to fill the gaps and a simple Open in Editor command, Photos 1.0 could be quite usable.
Import is a really big deal though that may hold heavy users back. The process of importing into Aperture is a really, really important step. Look at how much time and effort we put into the Aperture vs Photo Mechanic test a while back. Import is very important. Aperture has been the fastest kid on the block for a long time for single-card import, and after the Photo Mechanic adventure, we figured out how to make it fastest for multi-card import as well. I certainly wouldn't expect a robust multi-card import workflow in Photos 1.0, sadly. But again, that's a pretty small percentage of the overall Aperture audience that needs this feature.
What did I miss?
This is largely speculation of course, so… what did I miss? Do you have different ideas on what some of those curious sliders do or odd icons mean?
Level:

App:

Platform:

Author: