Hacking Full-size Camera Panoramas to Work in Facebook: Page 5 of 5

Are These the Final Results?
Here are the criteria we have:
EXIF

 "Camera: Make" must = "Apple"

EXIF

"Camera: Camera Model Name" must = "iPhone 6 Plus" (or any other supported model name)
Aspect ratio must be 5.75:1 or less
Height (at the above aspect ratio at least) must be 3,082 or less
I probably should test this with some other files. 
17 Testing with a new file
Here's another Lightroom created panoramic… the original is 15,576 × 4,232. Here you see the required 5.75:1 crop:

The resulting crop is 15,576 × 2,708 — so already below the 3,082 theoretical max. So I won't scale it anymore, but of course will change the EXIF Camera data.
RESULT: It worked! So far my process works. Yay!
One more test. This file started at 26,910 × 4,472. Cropped to 5.75:1 it looks like this:

The resulting file is 25,714 × 4,472 so will need to be downscaled to 3,082 vertically. Metadata changed, and…
RESULT: And again it worked! OK, we're done here.
I'm Calling It—it's a Success!
For those who skipped to the end, here's what you need to do to get your non-smartphone generated panoramic photo (i.e. one you shot on your dSLR/dSLM and stitched in Photoshop or Lightroom) to display as that super-cool tilt-and-pan-to-explore image on your smartphone in the Facebook app.
Crop the image to an aspect ratio of 5.75:1 or less
The height of the image must be 3,082 or less (at least at the max aspect ratio — you may be able to do higher and lesser ratios)
Change the

EXIF

 "Camera: Make" to "Apple" (presumably other phone manufacturer names will work too) [Exif Editor is a great app for that]
Change the

EXIF

"Camera: Camera Model Name" to "iPhone 6 Plus" (or any other supported model name)
Transfer to your smartphone, and upload to Facebook! You'll know if it's loading as an explorable pano if you see a globe icon in the lower left corner (scroll to the top to see an example).
Check out some samples
To see samples, head to my personal facebook page — very little is public there, but these are. Unfortunately you can't add panoramic photos to your business pages, although I imagine that will eventually change. 
I'm not sure about the desktop
Oddly this shows that it will work on the desktop, but then doesn't. If anyone knows what's up there, I'd love to hear it. When uploading the photo it shows as a "360 photo", but once published it just shows as a super-wide image.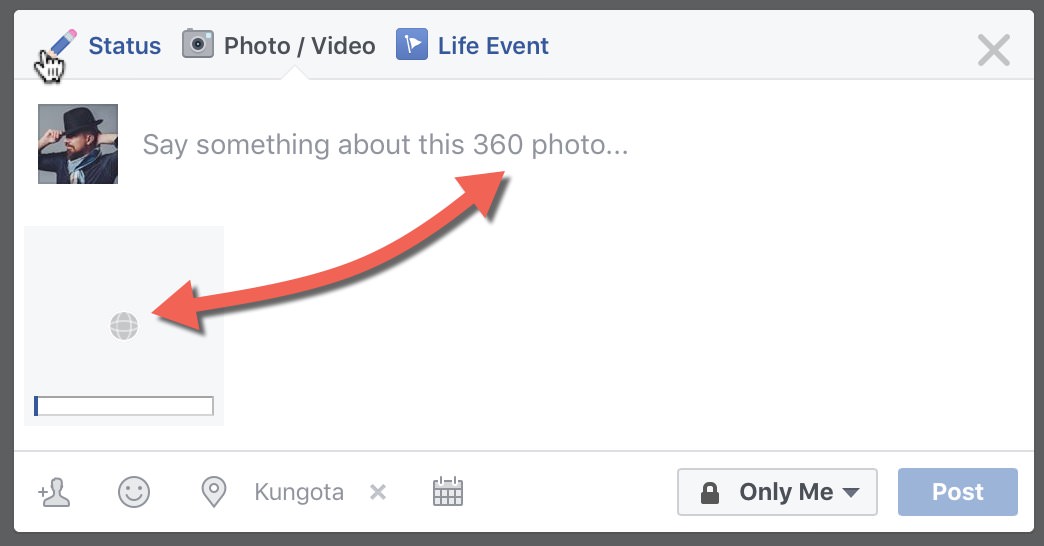 SaveSave
SaveSave
SaveSave
SaveSave
SaveSave
SaveSaveSaveSaveSaveSave
SaveSaveSaveSaveSaveSave
SaveSave
SaveSave
SaveSave
SaveSaveSaveSave
SaveSave
Level:

App:

Platform:

Author: