Deleting Photos in Aperture 3 (First, Second, Third Time's the Charm)
February 24, 2010 - 8:59am
Aperture 3 handles deleting files differently than Aperture 2, so here's a little look at what's happening.
When you first delete an image, project, or anything else from menu File > Delete or by tapping Command-Delete, it's moved into the Aperture Trash. This is a fantastic new feature that makes it much, much harder to accidentally delete your photos. Believe me, I wish I'd had this feature a year ago. If I did, I'd still have that collection of photos of Barack Obama speaking in San Francisco in November 2007. As it is though, I didn't, and so I don't.
That mistake is a lot harder to make today, for several reasons. For one, everything you delete now goes to a holding location just like in the Finder. And until you empty the trash, nothing is actually lost. But it's even better than that.
When you do finally empty the trash in Aperture 3, you're presented with a dialog and a checkbox reading "Move referenced files to System Trash".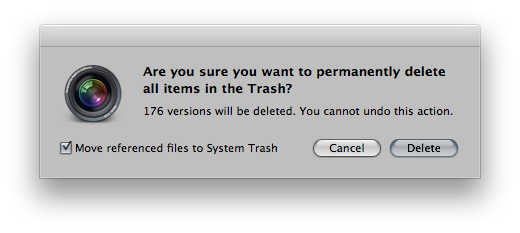 If you click on that, then click the Delete button, the files will be gone from Aperture forever… however the Master files will still be in the system trash! So you'll have yet another chance to recover those files that you didn't really want to throw away.
Overly protective like a loving mother sending her child off to his first day of school? Yes. And don't you love your mother for that today? You sure do.
Thanks, Mom.
App:

Platform:

Author: