Why Do My Photos Look Different in Aperture Than They Did on the Camera LCD?
November 22, 2011 - 10:51am
This question came up in the forum today, and I think it's a great question that can cause a lot of confusion for people. So, I'm addressing it here as a "Tips" post.
"Why do my photos look different in Aperture than they did on the camera LCD?", and the equally pertinent and confusing "Why do my photos look like they did in the camera for just a few seconds, then change before my eyes in Aperture?"
What you see on the back of the camera is not the RAW file, but is in fact a small JPG file that the camera produces and embeds into the RAW file for this precise viewing purpose. The camera isn't capable of decoding the RAW file to preview on the back of the LCD (if you think about how quickly you can scroll through hundreds of photos on the LCD, versus how long it takes to do the same thing in Aperture or in the Finder, that will make sense), so instead it shows you the small JPEG photo.
That small JPEG is produced using the image settings you have dialed into your camera (i.e. –4 sharpness, +4 contrast, –2 saturation). If you were shooting JPG or RAW+JPG, then the full-size JPG file that the camera produces would look as you've designed it. The RAW file however does not honor these settings; in fact, the "image" that you get from a RAW file is not an image at all. It's raw data (hence the name), and Aperture decodes that raw data to produce an image. This is why if you open a RAW file in Aperture, Photoshop, or Phase One, they will all look different (whereas a JPEG will always look the same). This raw decode formula, or "recipe" if you will, is one of the things that differentiates one piece of software from another. You'll find users who swear by a particular image decoder as being "the best", but of course that's open to interpretation—some users prefer an image that's more contrasty, or less saturated, or whatever. (Aperture is, however, obviously the best… hehe)
So the simple answer to the first part of the question is that the JPEG image, as an embedded thumbnail or as a separate JPG file, has had this custom recipe applied to it, whereas the RAW does not (and can not).
But what about the second question; why do you see one thing in Aperture at first, only to see it change?
When Aperture imports RAW files it goes through a procedure that is designed to get photos on screen and available to you as quickly as possible. In short, the first thing Aperture does is grab this little preview JPEG image from inside the RAW file on your memory card, and loads that into Aperture. So initially, it looks just as it did in camera. Then once it's grabbed all of those JPEG thumbnails (which happens very quickly), Aperture goes back and starts to copy the complete RAW file, and eventually renders a new thumbnail (and Preview file) using its own decoder, from the RAW data. This is when you see the image change before your eyes.
You can actually turn this feature off in Aperture. Under Preferences > Previews, you can enable/disable the feature "Use embedded JPEG from camera when possible".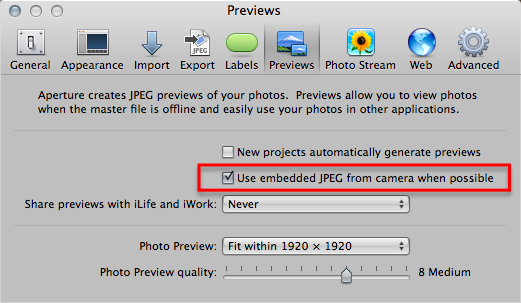 Disabling this feature will ensure that you don't see the camera-colored photos inside of Aperture for that brief moment, but it also means your import will appear to be slower. In fact the overall import time will be faster by disabling this, but if you are more interested in seeing your photos quickly and accessing the specific ones you want immediately, then leave it enabled. For a more in-depth look at the topic, check out this article I wrote about a year and a half ago, "A Comprehensive Look at Thumbnails, Previews, and More in Aperture 3".
OK

, I get it, but I want to see my "camera-look" in Aperture!

Fair enough. The solution here is to shoot RAW+JPG (or just JPG, if you don't need the RAW file). It all depends on your needs and desires. For example, I've always treated my little cameras (Olympus PEN, the Lumix GF-1, and now the Fuji X100) as glorified point-and-shoot cameras. I don't want to spend time messing around with the photos from these cameras; if I want to have complete control over the image, I'll shoot with my Canons. When I carry a little camera, I want to just shoot and have an image that's ready to share. So I take the time to tweak the in-camera settings to produce a file that I like, and shoot just JPEG. (Truth be told, I'd rather be shooting RAW+JPEG for those rare instances when I really need the original RAW file, but the X100 write-time for RAW is excruciatingly slow and the camera locks you out of changing settings while it's writing, so I don't do that… but that's another topic!) So the short answer is, if you want the image to look like it does in the camera, then shoot JPG.

Another solution would be to take the time to devise a look from the RAW file, using Aperture's adjustments, that match the in-camera JPEG look, and then apply that as an image preset on import. This would increase the processing time of import a little bit, but it would give you a RAW file that's already been tweaked to have the "look" that you like.
So what do you do?
Personally, I have my Canon color-settings at neutral (all adjustments set to zero). I don't want to be influence by how the image looks on the LCD; I want it to look as "pure", or natural, as possible. And again in my small camera, I have a "look" dialed into the camera, so I don't have to mess with it later.
App:

Platform:

Author: