Not Really so DAM Mysterious! A Capture One Pro Workflow
September 23, 2015 - 9:00pm
For those of us who have decided to move on from our beloved Aperture, one great option out there is Capture One Pro. The image processing is excellent, the UI is intuitive, and the learning curve is not too steep. One "yaBut!" however is the DAM (Digital Asset Management) system, including a keyword process that pales in comparison with Aperture.
What follows is my take on dealing with these issues and getting my mind around a slightly different approach. The goal is to be able to manage, edit, and catalog my photographs, while maintaining my sanity, enjoyment and work pace. Additionally, avoid going down a future-path that results in a dead end would be a very nice bonus.
The best way to understand the process is to try it out with a small sample of photos; ones that you can afford to trash. Capture One Pro offers a trial version that is fully functional, so it will only cost you time.
Here goes
Launch Capture One Pro, and from the menu bar choose File > New Catalog…

I've given a Name to the catalog of "Expert Catalog" and set its Location to /Users/BBP/Pictures aka ~/Pictures (the Pictures folder in my home folder). The ellipsis at the end of the Location panel lets you pick any location you like. Like in Aperture, this is the catalog, or library, storing your metadata and if you choose to work managed, your photos as well.
From camera to Capture One Pro
Take a few photographs — obviously ;-) — and put the card in your card reader. (Capture One Pro will want to tether if you try to connect your camera directly to your computer; that is a whole other subject). The opening screen has a big down arrow (Import Images), but as you connect the card reader, the import window will open and show the contents of your card.
The side panel in the import dialog lets you set where to Import To — you can choose whatever location suits you, including the option to save Inside Catalog ("managed", in Aperture parlance). I am choosing to make my files referenced and store them on my external LaCie drive in a folder called "ExpertRAW".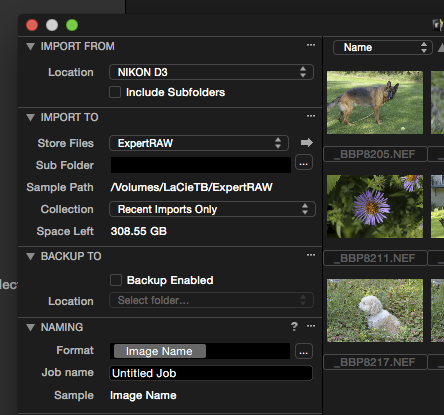 Click Import All, or select only the images that you want. (e.g. you may have 50 older images still on your camera card that have already been uploaded. Capture One does not know to prevent duplicate imports).
DAM
The Digital Assets to be Managed (photos) are now referenced by Capture One. In this example the images have been stored on an external hard drive and the Import window has closed. So where are the images?
In the Library tab, go down to Folders. Listed there are the folders on the external HD that contain the RAW files, and the green light signifies that the external drive is connected (i.e. online).
Select the appropriate folder — in this case the LaCieTB — and click on the down arrow, then in my example, I'd click on the folder ExpertRAW , and watch the thumbnails show up. Now you can get to work on improving the image!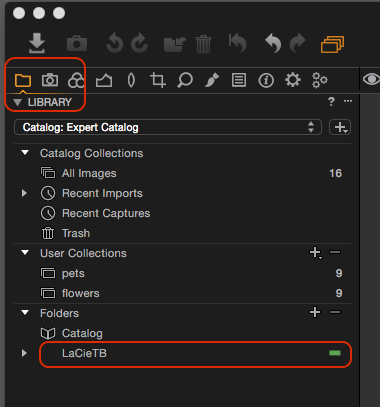 Moving stuff around
If you unplug your external HD an icon will indicate that the RAW files ore offline. You can still edit the images in Capture One though; you are actually working on the preview images but the adjustments are being written to the database and will apply to the RAW files once reconnected.
Editor's note:
While you can edit the preview image, keep in mind that the edits may look different when applied to the
RAW
, especially if you push into deep shadows or bright highlights. The preview file can only hold so much data, so you'll want to minimize the image edits you do while the originals are offline.
Let's say that you may need the originals on your computer (as opposed to lugging around an external drive). With your image thumbnails in view, click on the Library tab. Right under Folders, you will see Catalog with no number to the right because currently, there are no images in the Catalog itself since they are all on the external HD. Select the thumbnails you need and drag them onto the Catalog heading. (No you can not drag the folder, just the thumbs!) Notice that Catalog now has a number after it indicating the number of images you dragged there, and the thumbs have disappeared from the current window. If you click on Catalog, you will once again see the images therein.
Once back in the shop, you can drag the thumbs from the Catalog and put them back on your external HD. You could also make a new folder and put the files there. Keep in mind, all the adjustments have been recorded in the database and the database is keeping track of where the RAW are currently living.
Overall Setup
By using an external hard drive to keep my RAW files, I have virtually unlimited storage available. My system just has to keep track of where the images are and what adjustments have been made via the Capture One engine. Additionally, I can keep a huge library of images (online and offline) at my fingertips without their bulk of bytes actually being on the internal hard drive.
Capture One also allows you to make User Collections to sort your photos. For example, some of my scenic photos have really interesting sky and cloud formations. So I can drag my thumbnail into the "Sky" collection and the "Scenic" collection to make it easy to find these particular shots. In this demo, I have 16 total images. I have made two User Collections — "pets" and "flowers". I dragged nine selected images into "pets", and another nine into "flowers" — so two of the images are in both Collections. The images themselves are not duplicated; this is akin to Aperture's Albums.
Incidentally, the use of keywords is not very convenient in Capture One Pro, but the ability to sort into User Collections can be really useful.

Similarly, you can create Smart Albums that automatically show for example 3 star rated images, or red labeled images. There are a lot of criteria you can customize. Since these Smart Albums will only span a single Catalog, some thought should be given to what photos are in the Catalog. By using referenced setup (using external hard drives) you can keep a ton of images handy in your Catalog without maxing out your computer's internal drive.
Hard drives will fail!
It is just a matter of time. Drives go sour! Back up your drives to other drives; keeping a mirror your data makes recovery easy. Let's say Drive 1 dies out and there's no chance of recovering data. Plug in Drive 2 (the backup). In Capture One, go to the Folders where the offline symbol is showing. Right click on the line and select from the drop down menu Locate… and Capture One will re-find your files in the new location, and all will be well. Also remember to backup your Capture One Pro Catalog file — the database — on a regular basis. If you totally lose the Catalog file, all your adjustments etc. will be gone, but you will still have your RAW files on other drives.
Give some thought to using good, meaningful names for your file folders. We are no longer restricted to 8-dot-3 naming (yah I'm an old fart). One suggestion for dates in file folder name is YYYYMMDD_subject. This means you can always sort by year/month/day and your file system will keep things in chronological order.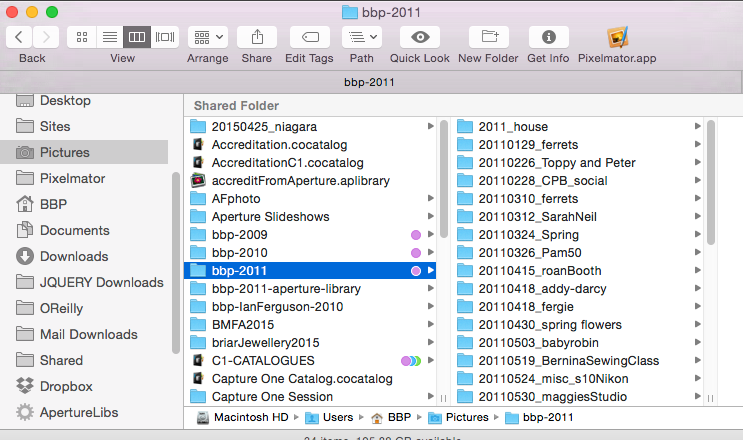 Conclusion
It took me a while to get comfortable with the Capture One Pro DAM, but it now makes sense to me. Experiment with a small sample of your work until you can be sure that precious stuff does not get lost! Import a few non-critical images, move them around, see how the program reacts. Then get on with making great images. By the way, PhaseOne (the makers of Capture One Pro) has some excellent tutorials online that cover this subject very well. Sometimes, you just have to read another approach before it all comes clear. I hope this works for you.
Level:

App:

Platform:

Author: