Aperture Vault's File Extension Secret
September 14, 2012 - 6:19pm
If you're not already familiar with Aperture Vaults, they are Aperture's own built-in backup system. In brief, it's a one-click backup for your entire library structure, metadata, previews, originals… everything if you're running a Managed library, and if you're running a Referenced library, then it's everything except the Originals.
For more on how Vaults work, read this article: Aperture 3 Vaults; What's Backed Up, and What Isn't?
The process of restoring a vault is tedious. First of all, it's not selective. It's an all-or-nothing affair. So if you accidentally trashed a project but you know it's in a Vault, you can't just recover that one project.
or can you…
Plus, restoring from a Vault takes a long time if you have a big library. This is no quick recovery.
or is there…
The secret
There's a little known secret about the Vault that I think is gonna knock your socks off.
When you create and update a Vault, the resulting file is a package. If you were to open that package (not recommended), you'd see the same structure you'll find in an Aperture Library.
It turns out that all the Vault really is, is a copy of your Library.
So what that means is, instead of restoring from a vault, all you really have to do is… you ready for this? Change the extension.
A big part of what takes so long in a Vault recovery is the copy of the Vault itself (which will likely be in the tens or hundreds of GBs). I haven't compared this, but usually a Finder copy (especially just a duplicate on the same drive) is quite fast, and I'm guessing faster than a full Vault recovery.
You'll want to duplicate the Vault first though
If you convert a Vault to a Library, I don't think you can safely go back to a Vault (see "risky way" below for a possible caveat). Also, I experimented with duplicating a Library and changing it's extension to the Vault extension, and that worked, but then I couldn't add that Vault into any Library, so that means no updating. So that's useless.
Selective recovery
OK, so how does this help with selective recovery — i.e., not having to recover the entire Aperture Library just to get to one project?
If you duplicate the Vault, then change the extension to make it a Library, you can just open that new Library and drag out the project(s) you need, if that's all you're after. Nice and easy, and quick! But there's the time-consuming duplicate process still to contend with. Let's work around that next.
A new Vault strategy (the safe way)
If you have sufficient drive space (and let's face it, drives are cheap as dirt these days), why not have multiple Vaults going? Have two or more identical Vaults side-by-side (or on different drives), so when the moment strikes that you need to recover a single project, just change the Vault extension to the Library extension on one of your Vaults, and you're back up and running in seconds. Sure it'll take longer to update multiple Vaults than a single one, but that's generally something you kick off before walking away from your desk for the night, right? Of course once you do this you will have effectively sacrificed a Vault, so don't forget to create another new one before you need it again.
The extension to change
So here's the part you've been waiting for. The Vault extension is .apvault and the Library extension is .aplibrary. To convert from Vault to Library, just select it in the Finder and choose File > Get Info (⌘I), unlock it, then under Name & Extension, change it from .apvault to .aplibrary. You should see the Vault icon change to a Library icon momentarily, but even if you don't, it will change after you open it. Double-click to open, and that's all there is to it.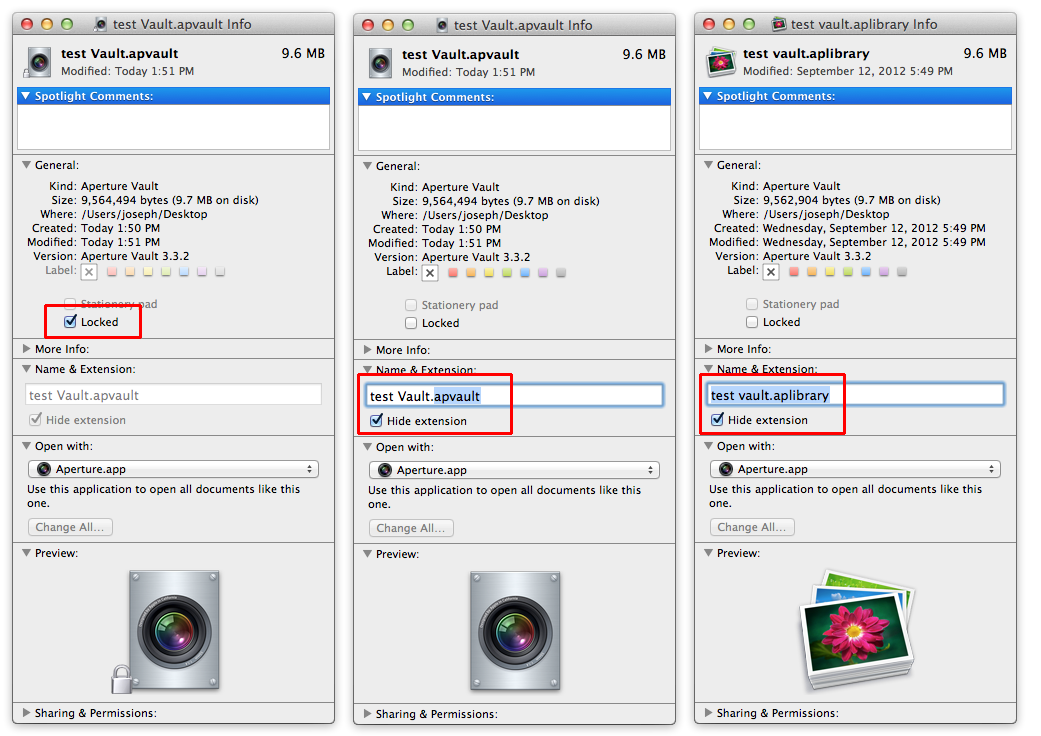 A new Vault strategy (the riskier way)
Everything I just said in "the safe way" about duplicate Vaults? May not be necessary. I haven't done enough testing to really endorse this method, but in small tests it did work. Seems risky to me though. Here's the risky steps, and by risky I mean you may end up having to start over with your Vault if this breaks.
You have your one Vault, like you do now. But you need a Project out of it.
Unlock and change the extension on the Vault as described above, open it as an Aperture library and export the Project(s) you need. Do not change anything in that Library/Vault. Nothing!
Close it down, change the extension back to .apvault, and re-lock the file.
Go back to your main/original project and update the Vault. If it updates, I think you're golden. If it fails… well, you have to create a new Vault from scratch. I warned ya.
Again, tested fine on small projects — not really willing to try it out on my only big vault at the moment.
And there you have it
The Aperture Vault's file extension secret.
App:

Platform:

Author: