Resetting Aperture 3 Settings, Presets and More to Default Settings (Part 2)
Picking up where we left off last week with part 1, here's part 2 on how to reset all those customizable settings in Aperture!
Resetting Factory Effects
Adjustments are the individual "bricks" that allow you to adjust Exposure (which includes Exposure, Recovery, Black Point and Brightness), or Curves, but when you combine a series of these together and save them as a preset, they are called an Effect. There are several effects built in, and you can create your own (or buy them!), and you can even modify the existing ones.
If you want to reset either a single factory effect because you changed it and don't like it, or if you want to reset all the factory effects at once, you can do either from the same menu. Note this will not reset installed presets to their original settings; it will only reset FACTORY presets to their original settings.
If you want to back up your effects before wiping them out, you can select some or all of them and choose Export… from the same menu.
From the Effects menu on the Adjustments tab, select Edit Effects… and you'll see the window below. To reset an individual preset, just select it and choose Reset to Factory Settings.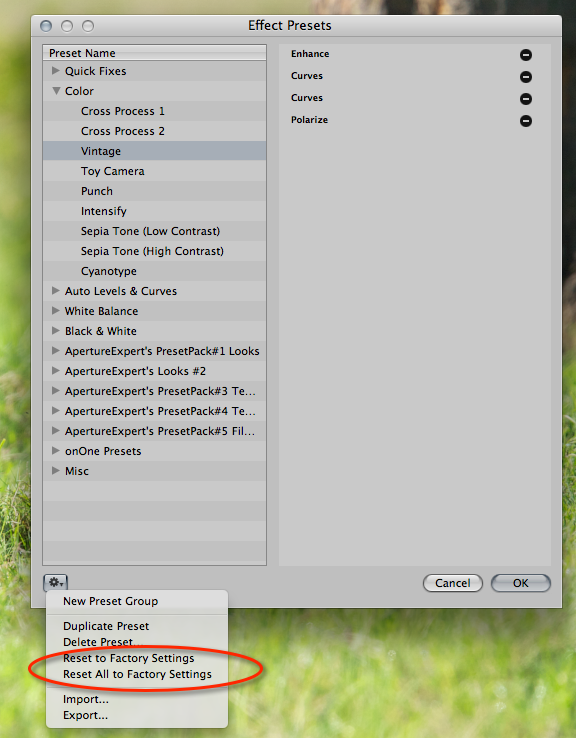 You can easily reset any one or all of the default Effects in Aperture 3
Here's what can only be a bug… if you choose Reset All, it will erase the name of the folder for your custom category, but leave the content intact. Odd. When I started writing this I thought this command might do a full reset (removing extra presets) but wasn't sure, so tested it, and found this.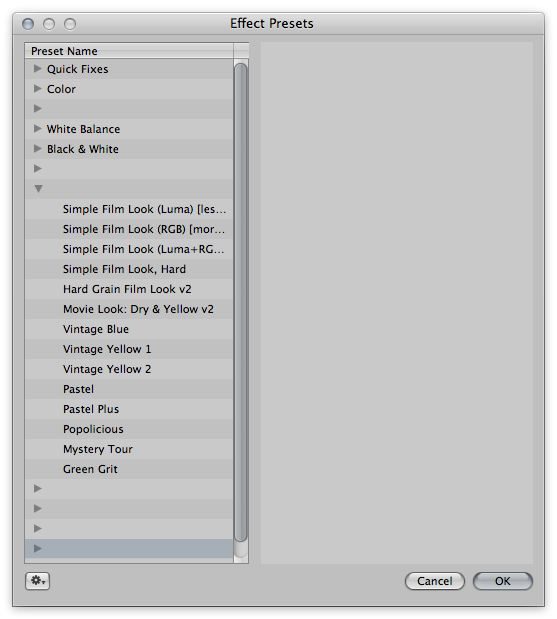 Resetting All will wipe out the names of your custom collections… oops
So, you know… don't do that :)
If you do, since you already backed up your Effects, you can just select all (including default ones), delete them, and then import your backup. All from the gear menu.
Resetting Effects Completely
If instead you want to truly wipe out all custom settings, then it's an Application Support file to trash. This one isn't sandboxed so it's easier to find.
Go to ~/ Library/ Application Support/ Aperture/ and you'll find all kinds of Aperture settings. To reset the Effects, the file to trash is called Adjustment Chain Presets.plist. (Get it; it's a chain of adjustments). The name isn't "effects" here because that term only came to Aperture in version 3.3, and I guess it wasn't worth changing the preferences to match.
Notice there is another folder, called Adjustment Preset Brushing, highlighted below as well. If any of your presets contain custom masks (and if you've installed any of mine, many of them do), this is where those masks are stored. This can be a considerably large folder; mine is nearly 500MB. If you're resetting everything, you can trash those, too.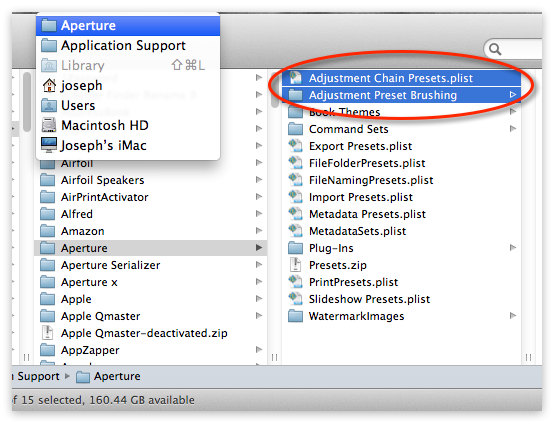 These are the files to trash to completely reset your Effects, removing any added ones too
There are a lot more…
There's a ton more to show. The list didn't get much shorter with this post! I still have Metadata Presets, Metadata Views, Browser & Viewer Metadata, Toolbar, Autofill list, Image Export, Web Export, File Naming, Folder naming, Slideshow, Keywords and Keyword Button Sets. As before if you see anything missing let me know in the comments and I'll add it to the list.
App:

Platform:

Author: