What I expect from the new Photos application

The news that Apple will stop development on Aperture has everyone playing a guessing game, including me. How comprehensive will their new solution be for professionals (and even prosumers)? What new features will it bring?
Personally, I think Apple is moving towards an even better workflow that combines the organization and non-destructive edits of Aperture with cloud-based features the likes of which we haven't experienced in any other product.
Reading between the lines
In my last post, "Syncing Your Aperture Library via Dropbox", I wrote about the risks and benefits to syncing your Aperture library through Dropbox. Mostly, I focused on the very precarious challenges as well as the benefits I personally derive from such a setup; I get my organizational structure, non-destructive edits, and special projects like books all synced across more than one computer.
Around the time that post went live, Apple took to the stage at its Worldwide Developer Conference to discuss its vision for the future of photos on iOS and OS X (the Photos presentation begins around minute 73). Although there were no announcements specifically about Aperture, they did speak more broadly to their new, cloud-based strategy for photos across devices. If you read between the lines, it sounds like they are building the benefits of Dropbox syncing of libraries right into their new versions of OS X and iOS (hopefully without the headaches).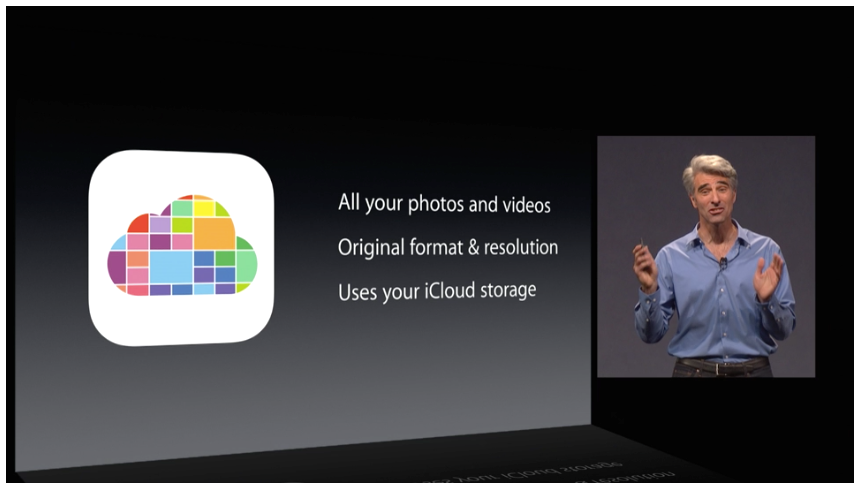 New iCloud-based syncing features
Most importantly, it sounds like the ability to sync photo edits and enhancements via iCloud is on the way. They did not specifically say whether edits were non-destructive, but they did say that photos stored in iCloud maintain their "original format and resolution," which hints that they store and sync master images and, my guess is, means they apply edits non-destructively as well. 
Apple was even more vague when it came to organizational structure — the demo they ran on Yosemite did not show any type of organizational hierarchy systems, and they did not discuss their implementation on iOS. What they did show, however, was the iCloud-driven search functionality that is akin to a Spotlight specifically for photos, allowing you to enter a word and the app will search the photo's name, location, album, and other data and display live search results.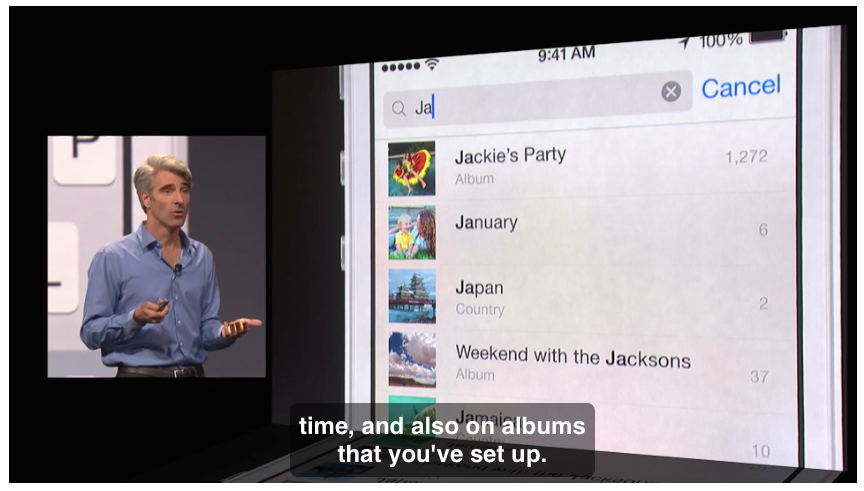 Given that they are marketing this as a solution for all the photos you can't fit on your phone, this seems to suggest that the new iCloud photo features will, at least on some level, be aware of album hierarchy in order to properly index and search. If that's the case, it's not unreasonable to expect that they envision cloud-based photo hierarchy so that folders, projects, and albums are stored in the cloud and synced locally to other devices.
Only time will tell…
To wrap things up, we can only guess what Apple has in store for us with Photos, and it is only natural (and wise) to be apprehensive. After all, based on Final Cut's recent treatment, it's likely that the first iteration of their new product won't have all the features we've come to expect from a professional photo management solution. That said, hopefully Apple will add those features. What remains clear is that it will offer new, cloud-supported syncing of features, some of which were demonstrated at WWDC, and some we haven't seen yet.
Level:

App:

Platform:

Author: